Who is Andy's Kitchen?
Andy's Kitchen located in Mildura is a modern Asian restaurant specialising in exciting oriental cuisine.
Their talented chefs have mastered the craft of fusion cooking, bringing mouth-watering tastes and textures to your table.
Not only are Andy's Kitchen well-know for their award-winning dishes, their friendly service and care for their customers is something all hospitality businesses
In early 2019, Andy's Kitchen engaged digital agency Build Digital Growth and in March 2019 we launched their digital marketing strategy. Prior to that, their marketing campaigns were comprised of traditional marketing channels such as radio and some basic social media.
The challenge they faced
Andy's Kitchen is a unique Asian restaurant, full of welcoming smiles and great service, but most of all delicious food. While they are leaders in their field with Asian cuisine, they understood the importance of digital marketing and needed a more comprehensive solution to cover more than social media. They knew WHO their target audience was, but they didnt know how to properly reach them.
What messages would most resonate
Where best to advertise online
Which digital advertising platforms were most suitable
How to design and implement effective campaigns for this target customer
Why digital marketing was the best channel to grow this business
Their main digital marketing objectives
Before starting any new digital marketing project we take a complete snapshot of the client's current situation. We review their competitors, current marketing spend, their successes, their failures and listen to what the client wants to achieve. Any digital strategy must revolve around the client's KPIs. If they don't know what they are, we collaborate with the client to establish them.
In this case the digital marketing objectives were:
More website traffic
Brand awareness
A strategy to trap enquiry on the website
Enable online ordering to establish a new stream of revenue
Establish a lead generation infrastructure
Better website user experience (UX)
New content to aid SEO campaign
Boosting conversion rate from lead to sale
Digital strategy and execution
1) Website design improvements
Before anything else, we needed to improve the website design and UX. Without a high performing and user friendly website, any efforts to obtain traffic and leads can be wasted. So, our first challenge was clearly to design and develop a website that was:
Simple to navigate
Warm and welcoming
Easy to order takeaway
Simple to reserve a table
Structurally built to perform well in SEO (Google Ranking)
The old website's organic traffic was high at the time of our engagement, yet their Google rankings didn't show great results. The main reason was zero SEO strategy for keyword research. Focusing on the homepage, the content was placed randomly and without apparent purpose or reference to user needs.
Here's how the site looked before we took over:
Here's how the site looked after we took over: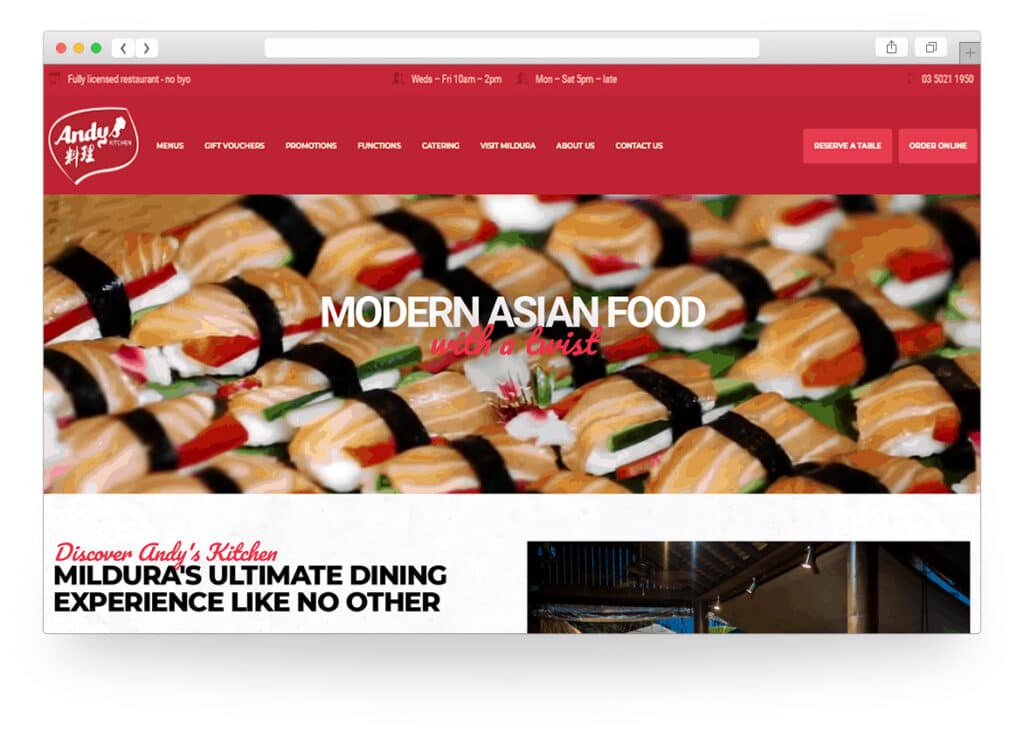 The first challenge was to align the website's content around solving user problems. We knew successfully completing this objective alone would help both the website SEO and increase online takeaway order sales, plus increase their table reservations, thus allowing us to simultaneously satisfy some of our other objectives.
2) Website Traffic improvements
Now that the website strategy was in place we could begin driving targeted traffic to the site through social and organic channels.
When it comes to ranking a website to the top of page one of Google, there are endless options when it comes to digital marketing agencies offering SEO and it's impossible to choose one that helps with both driving social traffic, and ranking a website to the top spots. We always tell restaurant owners that come to us wanting to rank online, look at our rankings, but not just ours, look at our other clients.
Overall to generate site traffic we provided:
Google (organic) via Search Engine Optimisation (SEO)
Social media marketing
Google Adwords campaign (paid), direct to landing pages
3) Generating more engagement
To keep the Andy's Kitchen restaurant relevant and back-of-mind while keeping their audience engaged, we came up with a strategy that would:
showcase great food
show great and fun design
showcase the team
Be humble and have some fun with content
Give thanks to patrons for their reviews
Why Does Andy's Kitchen Partner with us?
We arent just any web design or social media agency, we specialise in digital marketing for restaurants specifically, just take a look at what sets us apart below:
We specialise in restaurant digital marketing (it's one of our favourite industries to work in) our results speak for themself
We offer a one-stop-shop for Graphic Design/SEO/Digital Marketing/Web Design/Social Media/Paid Ads
We take the stress away from worrying about your digital presence, online ranking and how to generate more leads
We only partner with restaurant owners who value our expertise and trust in us to deliver them results
Digital Marketing Case Study – Results
Once the website was redesigned and fully functioning, positive results for the business were soon evident, just 3 months after starting the campaign.
Averge monthly conversion of 6% per 6000 average sessions for online orders
Fridays and Saturdays have an average online order conversion rate of 15-20%
Phone calls for table reservations decreased, while enquiry forms for table reservations increased
Phonecalls for takeaway decreased, while online orders took over and increased (easing the burden of 24/7 answering phone calls)
Gift voucher purchases increased by allowing people to buy them on the website
The website rankings increased to top 3 for keywords that offered the most website traffic
Channels web visitors came from over a 1 year period were 21,000 from Organic, 7000 from Direct, and 3000 from social media
Pageviews increased by 49.42% and Unique Pageviews increased by 41.86%
Comparing two months of data in 2021 to two months of data in 2020
Users increased by 42%
Sessions increased by 44%
Pageviews increased by 50%
Visits to the reservation page increased by 737%
All stats aside, the ROI (return on investment) every month is more than quadruple what we charge as a service, and we're only gauging this by online sales, this doesnt even account for customers dining in at the Andy's Kitchen Restaurant.
Why do we love working with Andy's Kitchen?
They're the most humble, and easy to get along with the team. We respect each other at our own craft, and excel each in our own separate ways, which is why we are such a great fit.
If you haven't tried Andy's Kitchen's food and experienced their hopsitality, you're definately missing out on one of Mildura's top food related attractions.